World's Only Scalable Ex-proof Robot Inspection Solution Now Available to Industry
September 28, 2022 – ANYbotics opens commercial orders for ANYmal X to provide industry-wide access to scalable robotic inspection solutions in Oil & Gas and Chemicals. ANYmal X, the only Ex-certified legged robot, is a game changer for asset operators. The impact of deploying ANYmal X is driving companies to accelerate automating robotic inspections. With over 500 ANYmal X units already reserved, ANYbotics is scaling production output with its global manufacturing partners.
ANYmal X Becomes Accessible to a Broader User-Base
ANYbotics opens the availability of its ANYmal X inspection solution at the SPRINT Robotics World Conference for Inspection and Maintenance Robotics. Participants in the ANYmal X Early Adopter Program (EAP) have been employing the ANYmal X inspection solution for several months. Asset operators beyond the EAP can now order ANYmal X and include Ex-proof, autonomous and mobile robots in their inspection and operational planning.
The Only Solution that Scales Robotic Inspections in Ex-rated Facilities
Oil & Gas and Chemical operations are complex, and ensuring the highest safety standards is paramount. Operators require Ex-certified, intrinsically safe equipment (ATEX or IECEx certification) in most of the process areas. Compared to tracked and wheeled robots, only legged robots can provide the level of mobility and autonomy required to navigate the intricate and complex multi-level structures of Oil & Gas and Chemical facilities, including industrial stairs and confined spaces. ANYmal X is powered by AI-based locomotion, navigation, and inspection intelligence, which allows it to conduct seamless, automated inspections in very complex environments.
As the only Ex-certified and scalable robotic solution, ANYmal X is a real game changer for end-users and solution integrators, as it helps to close the digitalization gap and enables unmanned facilities.
ANYmal X closes an important technical gap, conducting automated inspections in very complex environments, with stairs and tight passages, and this in combination with Ex-zones, that's a novelty! – Peter Welter, Automation Manager, BASF.
Deployment of the Game Changing ANYmal X Inspection Solution
The EAP enables end-users to implement the ANYmal X inspection solution efficiently. Several global innovation leaders have started deploying ANYmal X at their Ex-rated facilities. The global energy company PETRONAS has spearheaded the integration of autonomous, legged Ex-certified robots by partnering with ANYbotics on ANYmal X since 2019. The PETRONAS ANYmal X roll-out program is progressing well in its overall deployment plan, which includes upstream platforms, terminals, and downstream plants.
ANYmal X is on deployment at a PETRONAS offshore platform in Malaysia, focusing on integration to existing workflow and scale-up.
Having ANYmal X Ex-certified drives innovation in R&D to go beyond conventional applications, thus improving the safety and efficiency of our operations. – Iskandar Al-Thani Mahmood, Manager (Robotics), PETRONAS.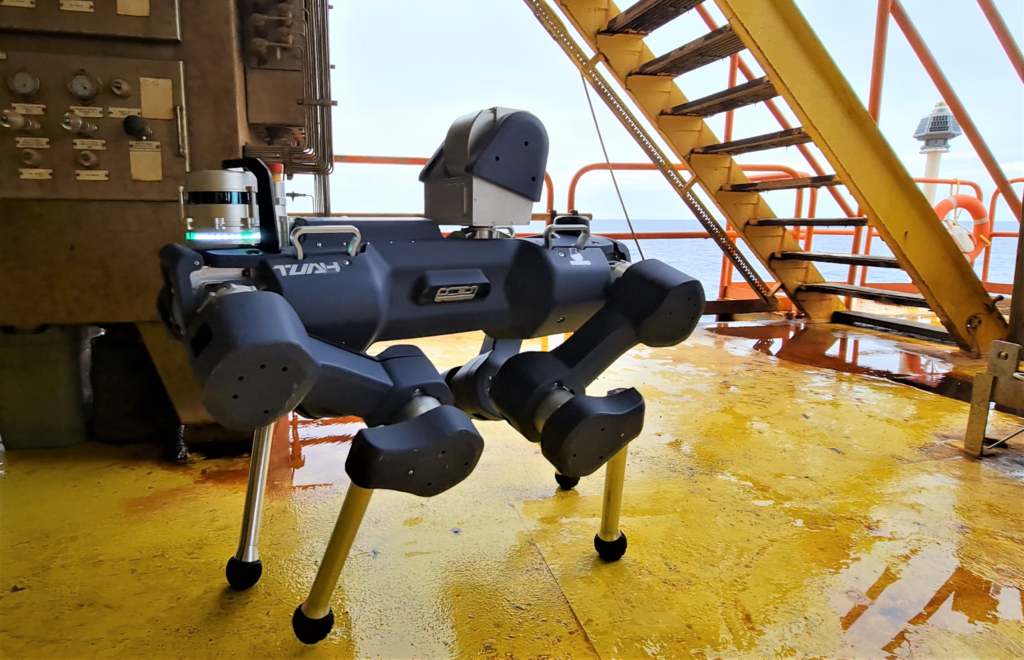 Ramping up Production for Increasing Demand
The first deliveries of ANYmal X units to selected customers will commence in mid-2023. The opening of industry-wide order acceptance will further accelerate industry adoption. With over 500 ANYmal X units already reserved by its EAP participants, ANYbotics has already implemented a program through its global manufacturing partner network, to scale production output to meet future demand.
About ANYbotics
Since 2016, Swiss robotics company ANYbotics has developed innovative, intelligent, and integrated robotic solutions that improve workers' lives, increase productivity, and support more sustainable industrial facilities. Partnering with global technology leaders, ANYbotics provides autonomous, automated, end-to-end robotic inspection solutions, for complex, hazardous, and explosive industrial environments, to large asset operators. ANYbotics is a fast-growing company of over 100 employees focused on supporting the inspection needs of workers in oil & gas, power, energy, mining, processing, chemicals, transportation, and construction.
Source: Anybotics.com