A new approach to support change in Maintenance Management
Companies are facing major challenges that require adjustments to the organization of maintenance. Implementing those changes requires special measures, such as appointing a Shadow Maintenance Manager. This ad interim manager leads the department through the change. This leads to more efficiency and makes work more pleasant for everyone, including new employees.
Companies need to switch to higher efficiency to achieve growth. Therefore, installations must run undisturbed – Overall Equipment Effectiveness (OEE) is a dominant performance indicator. This means that shutdowns must be carefully prepared, that they are short, and that as much work as possible is then done. And it means that unplanned stops that lead to major loss of revenue are avoided. At the same time, there is a need to deploy new technologies in the field of digitization.
Maintenance Managers also need to find enough qualified personnel. We see that many maintenance departments have an aging workforce. Rejuvenation is made difficult by the scarcity of well-trained personnel, while young people are not interested in a way of working that is no longer up-to-date.
These developments necessitate changes in Maintenance Management.
New approach to change
We are a strong supporter of a new approach to achieve a successful change of the maintenance organization and we make a distinction between 'defining change' and 'absorbing change'. It is one thing to set up a new organization and provide the resources for it. Another thing is the acceptance of that change by the employees involved.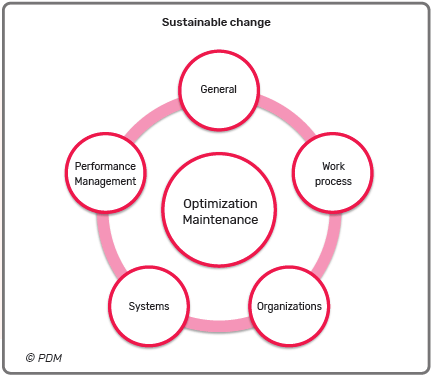 Defining change
It is important to have a clear idea of what goal you are aiming for. That is why we challenge companies to clearly indicate where the problems are, for example a staff shortage or an OEE that is too low. Next, the blueprint for the new maintenance organization can be created. The change focuses on five facets, namely work processes, organization, systems, performance management, and some general issues.
Efficient maintenance starts with standardization of the work order process, where gatekeeping is an important moment, so that the right priorities are set. A well-formed organization is the key to success. The roles of the employees involved must be clearly defined, whereby it is important that all those involved retain their role. To increase people's involvement, they are made more self-directed. Asset Management in a growing organization builds on data about critical assets, reliably and transparently. That data can only be used if the systems are properly set up – without that, digitization remains at most a promise. To take performance management to a higher level, KPIs are defined, which become available in a standard report. We see that figures that match their own living environment set people in motion.
Absorbing change
It is difficult enough in itself to translate the blueprint for the new organization into a workable form, it is even more difficult to implement the change in an ongoing department. Absorbing the change adds to the high work pressure that the department experiences anyway – it's getting too much for many people.
If changes are not implemented carefully and completely, people can easily revert to their old behavior. Then change is accompanied by frustration. And that frustration can lead to the departure of employees, making the workload for the remaining employees even higher than before.
In addition, we see that many Maintenance Managers are unable to successfully implement the change in addition to their regular tasks for various reasons. Therefore, it happens that they – voluntarily or otherwise – are (temporarily) given another position. This creates vacancies that are often difficult to fill in the middle of the change process.
Implementing change requires leadership and this can be performed by an experienced ad interim manager from outside the organization. He temporarily replaces or supports the Maintenance Manager, or temporarily fills a vacancy. The ad interim and the Maintenance Manager can work together, as there is usually enough work to divide tasks among themselves.
A minimal implementation is as a sparring partner for the Maintenance Manager, someone who can ask critical questions to find out where there are blockages and where you can improve. It must be a fully-fledged discussion partner who comes up with relevant solutions. Keep in mind that a Maintenance Manager rarely has someone to spar with.
The ad interim manager is someone who thrives in a changing environment. He is able to recognize and break through existing patterns in an organization. His main task is to ensure that people absorb the change, that they accept new things, say goodbye to old things, and that they actually start working (together) in a new way, so that the change is successfully implemented.
Shadow Maintenance Management
In the most extensive form, the ad interim acts as Shadow Maintenance Manager, who is responsible for the day-to-day running of the department and for implementing the change. It is not necessary that this person was involved in defining the change, this may already have been done by the company itself, by fellow experts of the interim manager, or by a third party. What matters is that he knows how to translate the change into daily practice.
Managing the department and implementing the change go hand in hand. The manager sees how the people in the department act and gradually he lets them work according to the new methods. He gives people who are ready for it more independence, so that they act proactively, without drowning in their new responsibilities.
The ad interim has the mandate to also bring about changes that are not foreseen in the blueprint. As long as those changes contribute to achieving the objective, he can provide added value before that blueprint is ready. He can encourage people to check if things that were always good are still good.
In addition to the ideas from the blueprint, the Shadow Maintenance Manager uses various methods and techniques. And you don't necessarily have to perform a Hands on Tool Time measurement to have a good idea of what the obstacles are to working efficiently.
"It's about restoring connections."
Restoring connections
We see that in many companies there are problems with the cooperation between Maintenance and other departments, Production, Reliability, and Engineering. These departments often assume conflicting interests and do not understand each other well. As a result, the work is not always efficient, effective, uniform, and transparent. It is up to the Shadow Maintenance Manager to restore the connections between those departments, and that starts with minor issues. It is important that the ad interim is fully integrated into the organization, so that he can clearly see where those small issues are. Talking to the departments makes it clear what everyone's contribution is to the whole. In this way the mutual relationships become clear. After all, there are no opposing interests, only a common interest.
The success of the Shadow Maintenance Manager lies in the focus on people. It often turns out that there is a great distance between the Human Resources department and the other departments, including Maintenance. The ad interim can ensure that the distance between HR and managers is reduced and that HR rules and procedures are properly linked to the workplace. He can then ensure that proper assessment interviews are conducted, that the training budget is spent wisely, and that people can work more independently.
Because the ad interim lowers or removes barriers, a pleasant working environment is created, which is also interesting for new employees. Although the focus is on the existing workforce, the ad interim manager can play an active role in recruiting personnel by defining vacancies and selecting candidates.
The Shadow Maintenance Manager develops speed in implementing the change, after which he carefully hands over the tasks to his successor. The ad interim will then remain available for aftercare. This can take the form of an audit, in which it is checked whether everything is running according to the set-up and whether everything that may have changed afterwards is properly secured in the organization. This aftercare is part of the partnership between the company and the ad interim.
The Shadow Maintenance Manager can be assisted. Managers, for example, can benefit greatly from a coach from outside their own organization, especially if the manager involved has not been in office that long. An additional team of experts can be deployed to solve a specific problem, such as eliminating backlogs as a result of old, incorrect work processes.
For more information: www.pdm-group.com/smm.